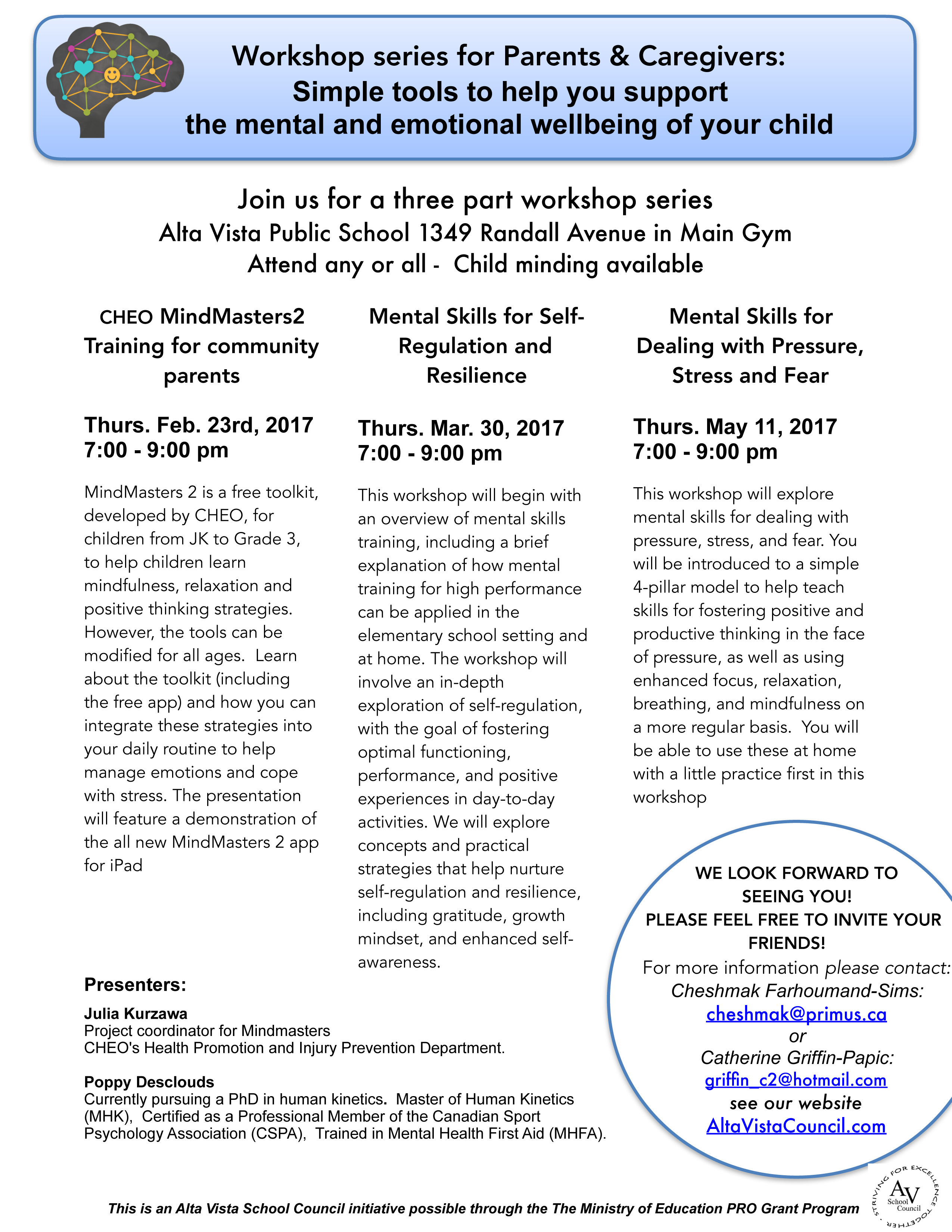 You are cordially invited to join us for a three part workshop series aimed at supporting our children's mental and emotional development.
What: The Workshops consist of three sessions that include an introductory training session on the CHEO MindMasters2 resource for social and emotional learning, followed by two in-depth workshops focused on specific mental skills such as self-regulation, self-awareness, optimal focus, relaxation, and mindfulness, for the development and maintenance of well-being and optimal day-to-day functioning at school and at home.
Workshop 1: 23 Feb 17: CHEO MindMasters2 Training for community parents: MindMasters 2 is a free toolkit, developed by CHEO, to help children learn mindfulness, relaxation and positive thinking strategies. We invite you to learn about the toolkit (including the free app) and how you can integrate these strategies into your daily routine. The presentation will feature a demonstration of the all new MindMasters 2 app for iPad, touch on some key teaching strategies and discuss how you can use MindMasters 2 with your child, to help them manage emotions and cope with stress.
Workshop 2: 30 Mar 17: Mental Skills for Self-Regulation and Resilience – an introduction to mental skills training focused particularly on self-awareness and self-regulation: This workshop will begin with an overview of mental skills training, including a brief explanation of how mental training for high performance can be applied in the elementary school setting and at home. The workshop will involve an in-depth exploration of self-regulation, with the goal of fostering optimal functioning, performance, and positive experiences in day-to-day activities. We will explore concepts and practical strategies that help nurture self-regulation and resilience, including gratitude, growth mindset, and enhanced self-awareness. This lecture and workshop will be a participatory, open format involving hands-on activities.
Workshop 3: 11 May 17: Mental Skills for Dealing with Pressure, Stress, and Fear – an intro to relaxation, breathing, mindfulness, and imagery: In this workshop we will explore mental skills for dealing with pressure, stress, and fear. Whether related to a specific high-pressure event, or catalyzed by minor day-to-day occurrences, these feelings are increasingly common among children and youth. You will be introduced to a simple 4-pillar model to help teach skills for fostering positive and productive thinking in the face of pressure, as well as using enhanced focus, relaxation, breathing, and mindfulness on a more regular basis. We will explore concepts and tools from both the child and adult perspectives, so take-home lessons from the presentation may be taught by parents to their children, or used by parents themselves. This workshop will be a participatory, open format involving hands-on activities.
Why: There are increasing number of studies that outline the benefits of mindfulness for children, both in their home and educational setting. Mindfulness has been shown to benefit children's brains and their behavior. It strengthens attention and concentration; reduces anxiety; enhances social and emotional learning, and improves behavior at home and at school. For teachers, mindfulness has been shown to increase their responsiveness to student needs; support stress reduction and management; and enhance classroom climate for learning. And finally, studies demonstrate that mindfulness practice helps parents reduce their stress, which impacts their children's stress level as well.
Where: All the presentations will be held in the main gym at Alta Vista Public School.
Who: The first workshop will be presented by Julia Kurzawa, the project coordinator for Mindmasters 2 at CHEO's Health Promotion and Injury Prevention Department. She has worked on a variety of initiatives, including facilitating various presentations around mindfulness and the MindMasters series and developing a summer literacy toolkit aimed at reducing the achievement gap between children in higher and lower income families.
The second and third workshops will be presented by Poppy Desclouds, who is currently pursuing a PhD in human kinetics. Poppy's passion and lifelong involvement in the arts inspired her to pursue a career as a Mental Performance Consultant. She trained privately in classical ballet, modern dance, and music for over twenty years, and sought to strengthen her understanding of mental skills for high performance and optimal mind-body connection, by completing a Master of Human Kinetics (MHK), becoming certified as a Professional Member of the Canadian Sport Psychology Association (CSPA), and completing training in Mental Health First Aid (MHFA). She applies her consulting for mental skills in a variety of performance-based settings, including sports, dance, music, academia, and the workplace, where she helps her clients learn to use their minds and bodies in complementary ways by uncovering, developing, and harnessing their mental and emotional resources. She has also implemented her work at the Children's Hospital of Eastern Ontario (CHEO), researching and advising on emotional wellness programs and resources for clinical health and education contexts.
We look forward to seeing you and please feel free to invite your friends!!
For more information please contact: Cheshmak Farhoumand-Sims: cheshmak@primus.ca or Catherine Griffin-Papic: griffin_c2@hotmail.com